Fantasy Fest aboard The Yacht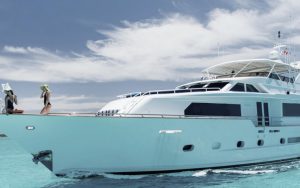 The theme for Fantasy Fest 2022 is: "Cult Classics & Cartoon Chaos" and will be held from October 21st – 30th. Many people spend months planning out their costumes (or lack thereof) for the multitude of themed parties that happen throughout the week. 
For members of The Group, we are joining in on the festivities at this year's Fantasy Fest by sending The Yacht, and taking a "hands-off" approach regarding members' accommodations and itineraries.
Instead, The Yacht will be docked nearby and fully crewed to provide a respite from the crowds.  Think Admirals Club.  Additionally, we will be hosting a few private parties. You know the type we mean.  Of course, they will be for members-only and maybe one or two special guests we meet along the way.
To learn more about Fantasy Fest 2022, please visit:  https://www.fantasyfest.com/